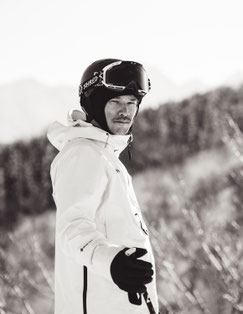 The Concierge/Kaz Sekiya
I am the concierge/ski guide of SKINAGANO and I'm proud to be your Nagano local connection.
I was born and grew up in small town called Obuse, which is surrounded by many ski mountains, and situated only a half hour from downtown Nagano. This charming town is best know for it's comprehensive Hokusai museum and chestnut groves.
Hooked on skiing since I was three years old, I learned to alpine ski from an early age and actively competed until the age of 17. While I was competing, I skied in the Alps and in various ski resorts in North America. After graduating from the ski academy(Iiyama Minami High school), I started giving ski lessons to competitive junior skiers and beginner skiers alike.
From 2000 to 2006, I had lived in Colorado and spent three winters in Breckenridge. I spent my mornings skiing in the world famous "Freeway Terrain Park" and my evenings rolling sushi at "Mountains Flying Fish." While I was in Colorado, I skied in Vail, Beaver Creek, Copper Mountain, Keystone, Arapahoe Basin, Winter park, Steamboat, and Aspen.
Since I returned to Nagano in the summer of 2006, I've been extensively exploring the mountains around northern Nagano, filming ski videos and clips with my friends from Nozawa Onsen, and seeking powder lines with local pro skiers and snowboarders every winter.
I'm ready and excited to show each and every SKINAGANO guest my backyard!
↑is my segment from MCV2 "The Roots"(2007) freeski movie from Nozawa Onsen.